So .. I 've always had an affinity for crossbody bags. I LOVE them. But then they were hard to find for awhile, or at least nice ones in my price range. but my love has rekindled after the purchase of my Lauren cross body bag this summer.  I love the bag I had for the summer, the Lauren by Ralph Lauren Java Bag (picture). I like this bag because it contours with your body. I remember seeing my coworker with it (in a diffrent print) and being in AWE, like OMG where did you get it! I stalked this bag. It was regularly priced at $248. I paid $78 when I purchased just by waiting a few weeks and stalking the Bloomingdales website. Then free shipping to my house? Say word? My friend was soo jealous when I told her my steal since she paid full price!  #SCORE! I LOVE it. I feel sooo chic yet comfy when I adorn it. It's also VERY VERY VERY roomy. I've fit so much inside. I do hope to find another bag, preferably in solid color though.  So I was browsing online looking at some and her are the ones I enjoy! I would love each and everyone one of these equally 🙂
Coa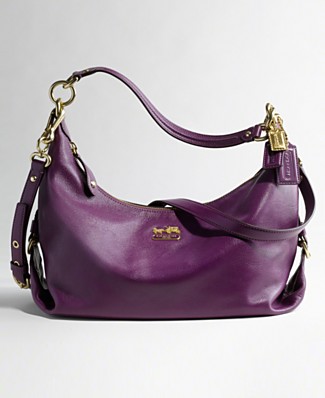 ch Madison Leather Hailey. First off, its purple!!! * swoons * I am not a purple fanatic, but it does have a certain air of regalness to it. And its on sale! Sale is my BFF for LIFE. Our bond can never be severed! I don't care what ANYONE says about Coach, a nice bag is a nice bag. I do hate when Coach bags have the label all over them or are that weird sateen material. But I  guess I hate that with any brand. This is a nice moderately price bag. Its reg priced at 228 and on sale for 171 at Macys. BOOM! I am on a search to find this at my local Macys. Lucky for me, I live near two Macys !! It also comes in black/silver and a nice brown walnut color.
I like the next bag because of the flap. This is the Tory Burch Amanda crossbody. I like the fact that it folds over, so no worry about spillage. Usually I have an aversion to flaps (in all senses * wink * ) however, too often it happens to me that I throw my bag in the passenger seat and the contents spill onto the seat and/or floor. Booo!! That's also why zippers and pockets are important in a bag! that is my one complaint about LongChamp Le Pliage bags, there are no pockets inside. And the one pocket it does have doesn't button or zip shut, so whatever you put in there ends up with the various items in the bottom of the bag.  While a great, versatile bag, its definitely an openspace for all my items to forage together. Anywho, back to this bag.  I don't like the size of this bag though. There are certain things I need in life, and a large bag is one. I always need to be able to throw in my Ipad, my to-go cosmetics bag, possibly a folder full of papers for my mentees, and who knows what else. I'm definitely a bag lady. I have tried working on this, but I always fail.  My compromise was to put things inside my bag into little bags (i.e. cosmetic bags and a ziploc bag full of pens) but it always gets disorganized again eventually.
Now we have a Marc Jacobs bag  reporting for duty! Isn'
t it adorable!!! OMG LOVE LOVE LVOE LOVE LVOE LVEO. OK. you get the point right? I like that this bag is
convertable and that the shoulder strap isn't atrocious! I love that it comes in multiple colors on the Bloomingdales' site. I can't remember the name of  teh bag right now, but I love that its so BIG!  Seeing where this bag falls on the hip I like it even more. I hate when a crossbody bag doesn't hit just right. This bag This bag is also around $400 (same as Tory Burch) but its larger, so I probably wouldn't feel as guilty about it. Decisions, Decisions.
I don't know, 400 would be the most I'd have spent on a bag, EVER in life. I just came to terms with spending $200-300. Quality over quantity has been my motto in life. I remember being younger and having several cheap bags vs. 1-3 nice ones. I've had cheap faux leather bags from H&M, New York &  Company and even Target. You use heavily for a few weeks and they start to peel.  Not so cool as an adult with a whole full-time job.
Also, the Michael Kors Jet Set Bag. I saw this bag in the MK store around Christmas time and my friend wanted it as a gift. I love it! It was reasonable priced, has nice gold accents such as chains in the handles. Aand it also converts. However, it isn't available on the MK website. It was back ordered. I also confused it for the Hamilton bag. And what does that say about a bag if I get it confused with another? Things that make you go hmmm. I do love the MK gold accessories, they give it some pizazz. But it is a little boxier than I normall would go for.